Dynamic LED-modules
The polyphoLED-modules are applicable in a most flexible way. They can be ordered separately or assembled in a small custom build chamber. Growing height is adjustable and growing area can be configured in 4 sizes. Up to 6 modules can be controlled with a PC. Due to a special technique the modules have a broad dynamic range, which could be set in 10.000 steps. Due to a special assorting of the LEDs in up to 12 channels you can run sunlight-simulation with variable red- and blue light spectrum.
The modules can be LED-fitted to customer specifications. You decide about the light-spectrum and the light intensity.
The modules can also be put into our plant growth chambers or phytophoton light bench in a poly klima room. With their intuitive to operate controller elements you can adjust light intensity, air humidity, temperature and CO2-saturation whichever way you like and therefore port any environmental condition into a controllable surrounding.
High grade, durable components and materials.
Access to every parameter via PC or touch screen monitor on a growth chamber or poly klima room.
12 light channels, each dimmable with 10.000 steps (PWM-frequency: 245 Hz).
Extremely broad dynamic range – dimmable from 0,01 up to 350 µmol and more.
Higher light intensities can be arranged.
Consistent temperature and very low wind-speed inside the chamber or poly klima room.
Comprehensive and fast service.
Technical details

•
 
Non-corrosive; all materials are made of powder-coated aluminum or food-safe ABS plastic.
•
 
The polyphoLED modules are completely made in Germany
•
 
Ideal for chronobiology, entomology, zoology and plant biology research.
•
 
LEDs can be configured free with 12 different light wave-lengths available - ask for details.
•
 
Dimming with pulse-width modulation at a frequency of 245 Hz. Therefore there is no influence on reared animals like insects.
•
 
Dimming range from 0,01% to 100% in 10.000 steps.
•
 
Editing and programming of the light intensities and the light periods is done with a visualizing-software on a remote PC or directly on the touch screen at the plant growth chamber or a poly klima room.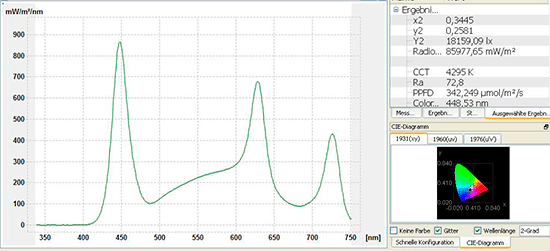 Light spectrum of a phytophoton LED module fitted with red, infra-red, blue and white LEDs.
If you are convinced that it is worth exploring further and have questions relating to your specific needs, then we appreciate your interest and would be pleased to personally discuss further at any time.

Product sheet polyphoLED-modules